21ic news ADLINK released the industry's highest performance GigE Vision small vision system EOS-1220, EOS-1220 equipped with third-generation Intel® CoreTM i7 quad-core processor, providing four-channel PoE (Power over Ethernet) port, compatible with the market All GigE Vision certified industrial cameras. In addition, ADLINK EOS-1220 provides a programmable Smart PoE application that can remotely control the power switch of industrial cameras through software to enhance the convenience of customers. ADLINK EOS-1220 is also suitable for multi-channel GigE Vision. It supports multi-channel GigE Vision, small size, low unit cost, flexible configuration and support program development. It is very suitable for production lines requiring multi-channel industrial cameras. Automated applications such as vision-guided robots.
This article refers to the address: http://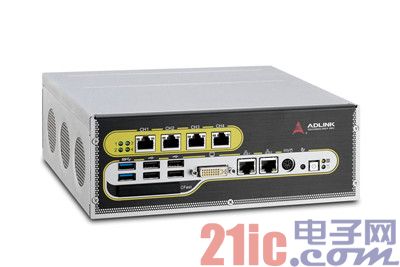 By supporting PoE interface and IEEE 1588 precision time synchronization protocol, the power, image data transmission, and synchronization trigger signals are integrated into one cable. ADLINK EOS-1220 can save more than 60% of wiring and subsequent maintenance costs. . In addition, the ADLINK EOS-1220 further provides a programmable Smart PoE application that allows users to remotely control the power switch of industrial cameras via software and provide power protection between PoE industrial cameras and systems for improved ease of use. Achieve energy saving benefits.
"As the process becomes more and more complex, the pick-and-place movements required by robots are more complicated. Therefore, robots combined with machine vision have become a new trend of automation. The coordinates of the object to be tested are located by the 3D vision guidance system, and the workpiece is picked up by the robot arm. Demand is increasing. In addition, 3D vision guidance systems require multiple cameras to take images simultaneously, requiring longer transmission distances and using fewer cables, which are important considerations in today's manufacturing industry." ADLINK Vision Machine Product Manager Chen Wenji said: "The ADLINK EOS-1220 has powerful computing performance, 4-channel Gigabit PoE, and rich I/O interface, making it the best choice for vision-guided robot applications."
ADLINK EOS-1220 supports a rich set of I/O interfaces, including four RS-232/422/485 ports, two USB 3.0 ports, and 32 PNP/NPN digital I/Os. Dual storage devices (SATA) With CFast). In addition, the EOS-1220 provides a set of USB ports and 1 Kbit programmable EEPROM inside the chassis to improve system data and software serial number security. In the operating software section, the EOS-1220 also supports a variety of operating systems, including Windows 8/7/XP and Windows Embedded Standard 7. Among them, under Windows Embedded Standard 7 operating system, EOS-1220 further supports File-Based Write Filter (FBWF), which can be used to protect the system or specific disk, providing a more stable and safer software working environment.
Stamping is the production technology of product parts with the help of conventional or special stamping equipment, so that the Sheet Metal is directly subjected to deformation force and deformation in the die, so as to obtain a certain shape, size and performance of the product parts. Sheet metal, die and equipment are the three elements of stamping.


Metal Stamping,Stamping Process,Oem Heat Sink,Stamping Power Box
Dongguan Formal Precision Metal Parts Co,. Ltd , https://www.formalmetal.com