Portable and automotive compressed audio and video solutions Today, the rapid growth of compressed audio entertainment is not limited to the home and portable device markets. In fact, digital and "soft" audio products are rapidly entering the automotive industry, and the in-vehicle connection of satellite radio and mp3 players is a good example. Consumers expect the same entertainment experience as portable devices and home entertainment devices in their cars. Therefore, a single-platform technology that supports a simple interface between cars and portable devices will be the key to satisfying entertainment needs. This article will combine Freescale Semiconductor's scf5250 audio processor and the newly introduced software library and reference design to introduce solutions that can help realize new portable and automotive compressed audio and video, and look forward to the shift from digital devices to automotive applications Market trends.
In-vehicle digital entertainment has become a new favorite In recent years, the rapid development of electronic technology has greatly improved various performances of automobiles. At the same time, consumers are increasingly demanding safety, environmental protection, comfort and entertainment. The strategy analyTIcs forecast shows that the global automotive semiconductor market is continuing to grow, reaching $ 16.3 billion in 2005, an increase of 7.2% from 2004. Automotive entertainment demand is an important reason for the steady growth of this market. In the next few years, not only will portable consumer electronics in vehicles continue to grow, but the demand for in-vehicle digital audio solutions will also grow.
With the vigorous development of the automobile industry, the concept of entertainment driving has become more and more popular, becoming one of the important signs of measuring the level of modern automobiles. Automotive electronic equipment, especially automotive entertainment electronic products, continue to absorb new technologies and the latest scientific research results, making digital applications from portable devices to automotive applications, so that people can also enjoy the entertainment experience brought by "mobile digital audio / cinema" while driving. However, compared with ordinary consumer electronic products, automotive electronic products have different application environments and have higher requirements for adaptability to temperature, seismic resistance, climate, etc.
Digital audio from portable devices into cars
Manufacturers of portable media players and car entertainment systems are working hard to meet consumer demand for seamless connections between devices. Freescale Semiconductor's scf5250 audio processor has been widely used in the design of many top digital audio player manufacturers.
The scf5250 is a second-generation audio processor based on the integrated coldfire v2 core. It is a system controller and decoder designed specifically for compressed audio music players (mp3, wma, oggvorbis, etc.). It is a portable and automotive solution that can support cd and hard disk drive (hdd) players, providing greater storage space and better power management capabilities. A 32-bit coldfire core with an enhanced multiply accumulator (emac) unit provides optimal performance and code density for control codes and signal processing required for compressed audio decoding, file management, and system control. The core supports jpeg and mpeg4 video formats for mobile displays and a series of windows media technologies from Microsoft.
The scf5250 uses advanced 0.13 m cmos process technology, and there are industrial-grade products available. It has the characteristics of a low-power hard-connected CD-ROM (cd-rom) decoder. The power supply voltage of the scf5250 core is 1.2v, and 128kb sram on-chip does not require cd application External dram can realize windows media audio (wma) decoding. In addition, the scd5250's adc integrates a comparator, which eliminates the need for an external comparator, which can reduce power consumption, system size, and program memory.
The scf5250 is also a competitive general-purpose system controller with a competitive price advantage and over 107 dhrystone 2.1 mips performance at 120mhz. The integrated peripherals and emac can make it replace the microcontroller and dsp in some applications. Most peripheral pins can also be remapped as general-purpose i / o pins. Figure 1 is the structure diagram of scf5250.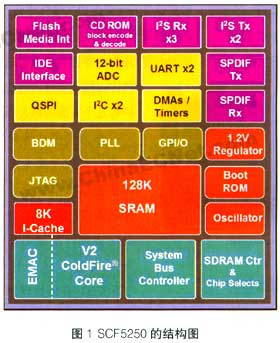 scf5250 has the following characteristics
Hardware module
The working frequency of the core of coldfire v2 processor is 120mhz;
Enhanced multiply accumulator (emac);
8kb direct mapping instruction cache;
128kb sram (two 64k memory segments), without external sdram, compressed audio decoding (mp3, wma);
Operation with internal or external crystal oscillator;
Support 16-bit wide sdram memory;
Background and real-time debugging modules;
Two independent universal asynchronous receivers and transmitters (uart);
Two i2c modules;
Queued serial peripheral interface (qspi), the main channel is unique;
Digital audio transmitter (spdif) and two receivers conforming to iec958 audio protocol;
cd-rom and cd-rom xa block decoding and encoding functions;
Two independent 16-bit timers; system integration (pll, software watchdog);
Four-channel direct memory access (dma);
Six-channel 12-bit analog-to-digital converter (adc);
ide interface or smartmedia interface;
Flash memory card interface;
General i / o;
1.2v core voltage, 3.3vi / o voltage;
Software module
Support microsoft windows media drm10;
mp3, wma, aac, mp3pro, ogg vorbis decoding and mpeg1 layer 2 decoder (vcd);
mp3 and adpcm encoders;
Free and lossless audio codec;
Variable playback speed, support mp3, wma, mp3 pro, windows media drm10, mpeg2 layer 1, aac, ogg vorbis, adpcm and flac;
jpeg and mpeg4 decoding (the speed is 20fps when playing audio files synchronously in qcif resolution);
srs wow and other third-party algorithms;
adpcm recording.
Recently, Freescale Semiconductor has launched the scf5250 processor software library. While adding new portable and automotive compressed audio and video functions, it also supports the latest digital rights management (drm). Rich software library includes real-time operating system (rtos); compressed audio codec; file system for cd-rom, hdd and flash memory. It also has recording functions, such as real-time mp3 of voice and music (record player) or adaptive differential pulse code modulation (adpcm). In addition, the software library also supports usb mass storage software stack and media transfer protocol (mtp), which helps to achieve digital rights management.
Innovative tools for successful design
Connectivity is currently the hottest topic, and it is particularly important to provide excellent connectivity without reducing vehicle safety. Freescale Semiconductor uses its expertise in the portable audio market and semiconductor solutions specifically for automobiles, as well as the ability to provide in-depth technical support, to provide a complete set of system solutions for in-vehicle digital entertainment. It can help system developers enter the development stage of high-value, product differentiation applications earlier, so that they can provide better products at a lower cost in a shorter period of time. This is also the advantage of Freescale Semiconductor as a reliable partner for automotive manufacturers.
In order to promote the application of scf5250 in emerging markets, Freescale Semiconductor has launched scf5250 new reference design, see Figure 2. It can help product designers develop new digital audio devices based on hard drives and flash memory. The reference design includes the m5250c3 evaluation board (see Figure 3) and the m5250adc card, which has all the components and connectors needed to quickly and efficiently design the product. These tools for users are as important as scf5250 devices themselves, and can help users build advanced products that can be quickly brought to market. Reference designs can provide product developers with hardware and software support, enabling them to translate new concepts into innovative and efficient product designs that meet consumer needs. The storage bus speed of scf5250 running at 120mhz frequency is 60mhz; 1.8mb in 2mb flash monitor / debugger is available for users; in addition, it also includes car 10/100 Ethernet connection, supports scf5250 software module, drm, usb 2.0 hs otg (requires m5250adc card), graphical interface (requires m5250adc card) and power management software.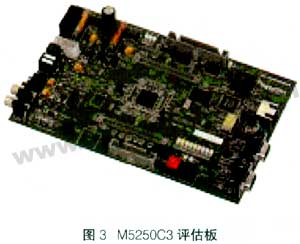 According to user requirements, Freescale Semiconductor can also provide free charts, layout files and component lists for 1.8-inch, 20GB hard drive reference designs. These reference designs can support color liquid crystal displays (lcd), jpeg and mpeg4 and usb 2.0 hs otg.
Digital copyright is coming to us
Information digitization is one of the typical signs of the new economic era. From the first day of the birth of the Internet, there has been a contradiction between free sharing and intellectual property. Today, this increasingly intensified contradiction stimulates economic benefits and also promotes the advancement of advanced technologies such as digital rights management. Digital rights management technology can both identify users in the digital space and grant user rights, standardize users' behavior, and protect the rights and interests of owners and operators of digital information.
For player manufacturers, they are faced with providing a flexible and protected hardware platform, and consumers demand more player features and richer content, and content owners want to implement content through various licensing models Tremendous pressure on authority protection and other aspects.
Freescale Semiconductor, a leader in portable audio, is consolidating its position with digital rights management software. Currently, digital audio product manufacturers can use Freescale Semiconductor's scf5250 audio processor series platform to run Microsoft's windows media technology , Including windows media digital rights management (digital rights management) 10, windows media audio (wma) 9 and media transfer protocol (mtp, media transfer protocol). In this way, player manufacturers can launch their own products with music services such as "pay as you go" or unlimited monthly downloads.
With extensive software libraries and reference design experience, Freescale Semiconductor's scf5249 and scf5250 audio processors have helped early adopters put windows media drm 10-based players into new markets. Samsung Electronics Co., Ltd. adopted scf5250 to achieve the high performance and security required by the yh-j70 multimedia player. windows media drm 10 has become an important feature of Samsung electronics products, and laid the foundation for the hot sales in the European and North American markets.
Looking to the future
Car entertainment is a revolution and inevitable trend in automotive electronics technology, such as PC technology, Bluetooth technology, GPS satellite navigation, etc., will be integrated into the field of car entertainment. Although the Chinese car entertainment market is still immature, with the reduction of costs, the maturity of technology and the increase in production, in the near future, traditional car audio will be integrated with high-tech entertainment functions such as mobile phones, audio / visual / video , Flash memory cards, hard drives, etc .; in the future will also have the function of pc, to achieve communication with the outside world, Internet, games and many other functions.
Freescale Semiconductor is currently developing the next-generation audio processor and plans to integrate USB hs otg technology, tamper-proof real-time clock (rtc) and high-speed udma ata interface on the chip. This will help manufacturers reduce the number of chips and make their products more compact. Freescale Semiconductor will also integrate automotive network interfaces on the chip to accelerate the entry of digital audio solutions into the automotive audio market. Its coldfire products will also pay more attention to environmental protection requirements; while providing excellent mainstream digital (audio / video) playback functions, it will also meet the higher requirements of manufacturers for high integration and shock resistance.
The Dry Type Transformers` materials are of high quality, scientific formula, and adopt advanced production testing equipment to produce according to strict process. The Dry Type Transformer has the characteristics of high reliability and long service life. Depending on the environment, different enclosures can be configured. It can be used as an upgraded product for Dry Transformer with low loss, low noise, obvious energy saving effect and free maintenance.
Dry Type Transformers
Dry Type Transformer,200 Kva Dry Type Transformer,50 Kva Dry Type Transformer,500 Kva Dry Transformer,Dry Type Transformers Manufacturers,Dry Distribution Transformers
FGI SCIENCE AND TECHNOLOGY CO., LTD , https://www.fgi-tech.com