For most HTC Vive players, since Vive entered the house, he never thought of taking it out again. However, for many VR entrepreneurs and employees, you have to prepare a large suitcase for your work needs. You should have all the equipment such as the headlights, Lighthouse base stations, controllers, earphones, cables, and a VR-Ready notebook. Remove it and put it in the box, and then rush around with it. What's even more devastating is that you go through this process once again everywhere you go.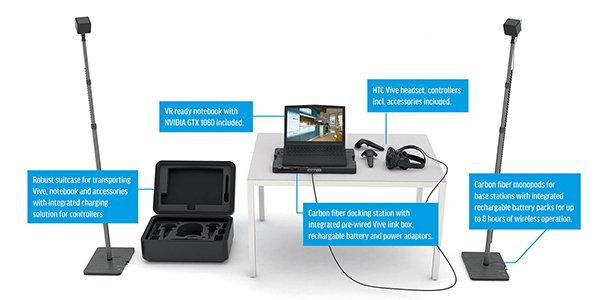 Innoactive Launches Portable Solution Based on Vive
Innoactive's view, HTC Vive provides the world's leading room-scale VR experience, which also depends on its complex product structure. How to provide it with a more convenient product carrying solution is a huge challenge. Innoactive therefore introduced a portable solution based on HTC Vive: VR Suitcase.
VR Suitcase is actually a one-piece carrying case that integrates PC hardware and HTC Vive. It contains a VR-Ready notebook with a GTX 1060 graphics card, an HTC Vive device, and two scalable Lighthouse base brackets. Each accessory has a corresponding storage space, so it can help users complete the construction of the room-scale HTC Vive system and the storage of the real kit quickly and easily.
In addition, the biggest advantage of this solution is that it allows users to experience VR at any time and place, because the power supply device in the suitcase can support laptops, Lighthouse base stations, and the head is significantly worse for 8 hours, and the user no longer needs to visit every one. Look around to find out if there are enough outlets.
Such a one-stop solution is truly appealing. Whether on a business trip or traveling, indoors or outdoors, VR Suitcase makes high-end VR experiences even easier to implement than home-based entertainment experiences. However, before the excitement, Xiao Bian had to remind everyone that VR Suitcase is currently a solution for the B-side market. The entire device was constructed using a lot of advanced building materials to minimize the weight of the suitcase, which also usually means An expensive price.
It is understood that currently VR Suitcase is priced at approximately US$9,500 (excluding VAT and shipping fees). Even considering the high cost of building materials, the price of nearly 10,000 US dollars is still a lot higher than the cost of the equivalent hardware solution. Although Innoactive believes that the practicality of the VR Suitcase solution will impress more corporate users, and that they do not currently have the same type of competitors, it seems to many people in the industry that the price of this solution is still too high.
Permanent magnet stepper motors use a permanent magnet (PM) in the rotor and operate on the attraction or repulsion between the rotor PM and the stator electromagnets.
MAINTEX's PM stepper motors are widely applied in many innovative applications, including: computer equipment, photographic systems, optoelectronic devices, valve control, ATM equipment, CNC machine, automatic winding machines, electronic clocks and medical equipment, etc.

Permanent magnet stepper motor,Pm stepper motor,Permanent magnet type stepper motor
Shenzhen Maintex Intelligent Control Co., Ltd. , https://www.maintexmotor.com